Any Questions?
Read our frequently asked questions below.
Learn more about how to use EasyGrouper on our Youtube Channel
EasyGrouper is a simple tool for maintaining your company directory and pushing that information to all of your employee's smartphones automatically.
EasyGrouper is $1 per user per month and includes status, group and location features in the plan, as well as administrative control over profile photos. Users can also send real time alerts via email and SMS. There are no contracts, no start-up fees and you can cancel at any time. You can start using EasyGrouper for free for 30 days and we will not request any credit card information from you. See our
pricing page
for more details.
Click
Sign up
on the EasyGrouper website home page to start an EasyGrouper 30 day Free Trial. Just enter your name, organization, email, and password and you have a new account created in seconds.
Yes! In order to join a new account as an existing user, you need an invitation to join the new account or an account code.
To check if you have been invited to join an account, simply log in to the web application. If you have been invited to join an account, you will see a pending invitations icon to the right of your name. Click on the icon to review the details of the account and choose to accept or deny the invitation. If you choose to accept it, you will be able to view the new account information immediately.
If you have received a special account code, log in to the web application and click on Account and then select Join Account. Enter the account code and click Join. You will now have a Pending Request icon displayed to the left of your name. This means that your request to join is being reviewed by the account administrator. Once approved, you will be able to view that new account information immediately. If you wish to withdraw your request, you can simply click on the icon and delete the request.
If you are using the mobile app, try 1) logging out of the application (Go to Profile, settings, log out), 2) closing the open version of the app that is currently running (using your phone's task manager), and then 3) reopening the application. Upon reopening, you will be asked to log in again using your username and password for privacy reasons.
Alternatively, check the Google Play store (Androids) or the App Store (iPhones) and ensure you have installed the latest updates. Do this by: 1) closing the open version of the app, 2) installing the update, and then 3) reopening once the updates are complete. For further troubleshooting advice when using the mobile app on an Android device, read here.
If you are on the web app, double check that your internet connection is enabled and that you are connected to a secure network.
Click here and we can help you.
These reset instructions are valid for 24 hours for security purposes, but can be resent again at any time if they expire. Your account administrator can also reset your password for you.
You can also change your password once you are logged into either the web or mobile application. Access your profile and then click Change Password. You will be required to enter your current password to save a new one.
EasyGrouper Basics
---
Only an Account Administrator can add people to the account. Admins can manually add people one by one, or complete a bulk upload of a list of people using an Excel or CSV file. First click the Everyone page. Select the Create User button and select Add users manually... or Import your users from a file.... Detailed instructions about the file format and example templates are also provided on this page.
Yes! Account administrators can invite people to join the account if they have set up their EasyGrouper account as public. To invite users, log into the web app and click Account, and then Account Settings. In the details tab, under privacy, there will be a link that you can share with your contacts. Use the groups feature within EasyGrouper to email the link to specific groups. Note that an administrator will have to approve new user requests to join before they are added to the account.
Think of account settings as a dashboard of key account information that can only be accessed by account administrators. It includes a list of administrators and billing contacts on the account, how many users have never logged in, a list of users who have already received an EasyGrouper welcome message (and the ability to send one out to those who haven't), privacy settings. Billing information is also viewable in account settings, but can only be edited by billing contacts.
A private account means that new users can only join the account by invitation only. Non-private accounts have a URL where anyone can ask to join and is added when an administrator approves them. This URL is not discoverable unless you either email it or place it on your own web site. By default, new accounts are not private.
Login to the web application and click on the Everyone page. When you click on an individual's name, click edit and you will view an Account Rights section. Mouse over each role name to view a description of each role.
Every organization divides their work a bit differently. EasyGrouper can accommodate how you do business. A person's role in the group is next to their name, so you know who to contact about an issue. Need to email a message to everyone in your group? You can handle that right from your phone or the web site with our Email Group functionality. You can even create private groups that only the members of can see.
As an account administrator, login to the web app and click on the Groups link at the top of the page. Click Add Group. From here you can enter group specific details such as the coordinator of that group, each person's role within the group, etc.
You can set your status through the mobile or the web application. Simply click Status in the mobile app and Set Status under your name in the web app, and then choose a default status like Traveling or type in your own. You can select start and end times, so your status will appear to others like "In a meeting until 2:00pm" Make sure to click Done to save it! You can even set statuses in the future (if you know you'll be busy later in the day) and the app will only display it during the start and end times you set.
As an account administrator, login to the web app and click on the Locations link at the top of the page. Click Add Location. From here you can enter location specific details such as directions to each office or the coordinator of that location. You can also assign users to that location.
There are two ways to assign people to a location as an account administrator. If you need to assign a large number of people to a location, the best way to do it is from the Locations page on the web app. Click on a location to edit and assign or remove people from that location.
Alternatively, you can assign people to a location one by one, by editing their location in their profile. Just go the Everyone page, open a user's profile, and edit their location there. If you don't see a location you need in the dropdown, see adding locations.
No! Locations in EasyGrouper are created within the web application to track location specific details. The EasyGrouper mobile application allows employees to view that information on their mobile devices. Tap on the address of a location and it will load your phone's native mapping application, making it easy to get directions quickly. Your mapping application will probably require GPS services however.
Bottom line: we don't track people
On the web application, sign-in to your account and click on "My Information". Here, you will have the option to edit your personal details, as well as add, change or clear your picture. On the mobile app, select "Edit" from within your profile. Here, you will have the option of choosing an existing photo, taking a new one using your mobile device or clearing the existing photo. When you upload a new photo it will have to be approved by an administrator before it becomes live.
The best way to install EasyGrouper and have it synchronize with your Google Apps for Work account is to install EasyGrouper via the Google Apps Marketplace. Before you install EasyGrouper you must allow external applications the ability to use the API. This is done in the Google Apps for Work Admin Console; click on More Controls...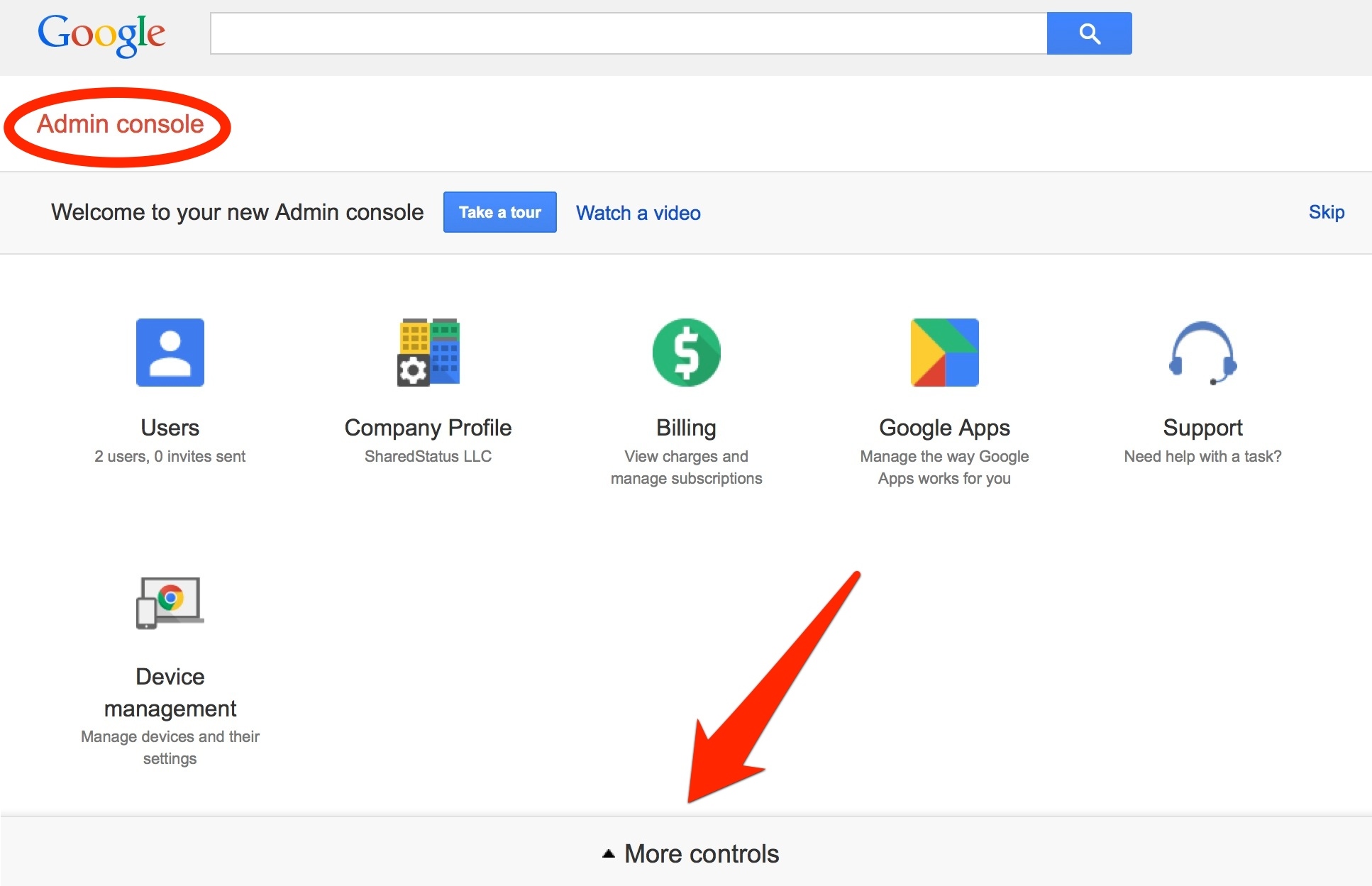 Security...

Select API Reference and check Enable API access...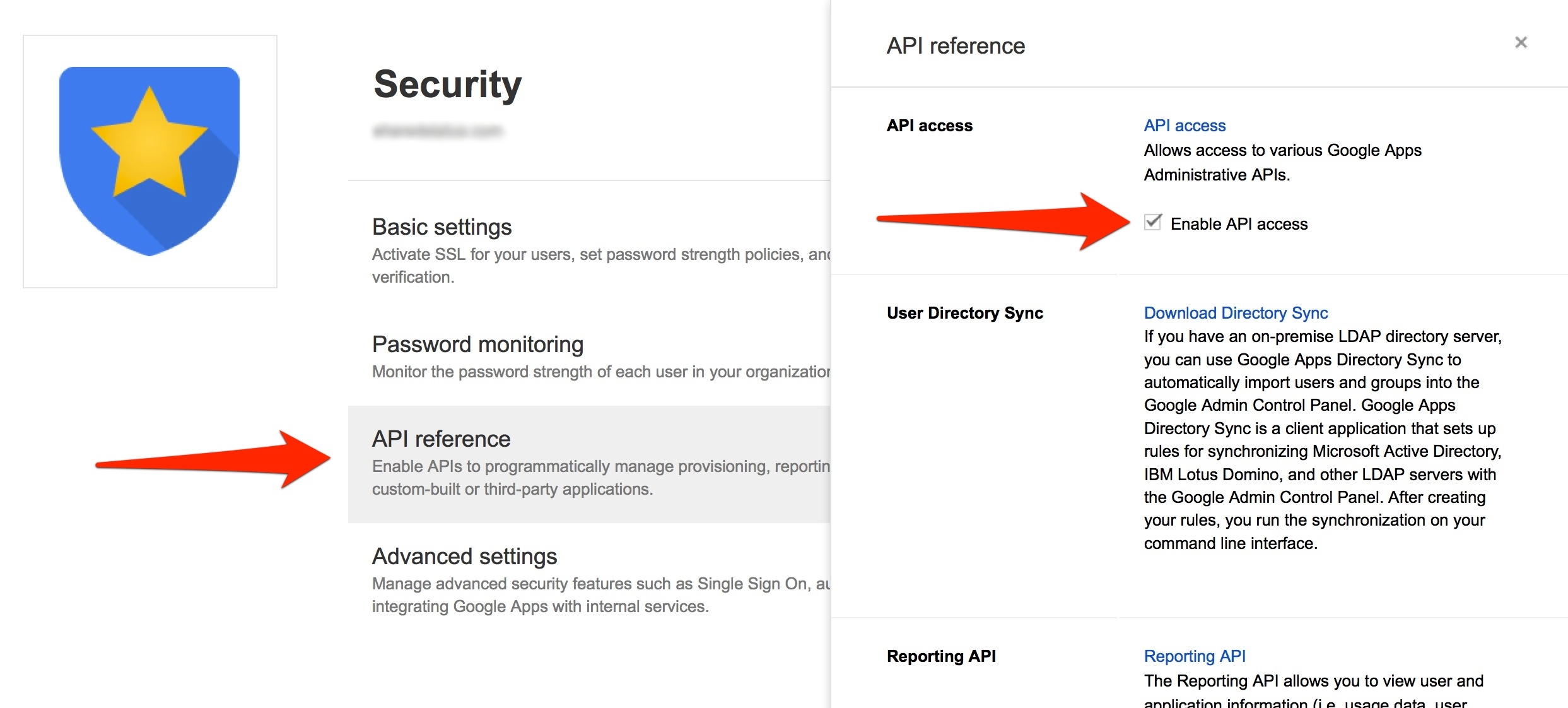 Finally click save changes...
You must be an administrator on your Google Apps account in order to install EasyGrouper for all the users of your account. Once you start the install you will be asked if EasyGrouper can inspect the contacts in your account. This allows EasyGrouper to keep your users synchronized; no need to add, update or remove users from EasyGrouper - just do that from within Google Apps and it will automatically be reflected in your EasyGrouper account. The final screen in the Google Apps Marketplace installation has a step you must perform in order to ensure your EasyGrouper account is set up properly. Please click the Additional app setup link once it indicates EasyGrouper has been added: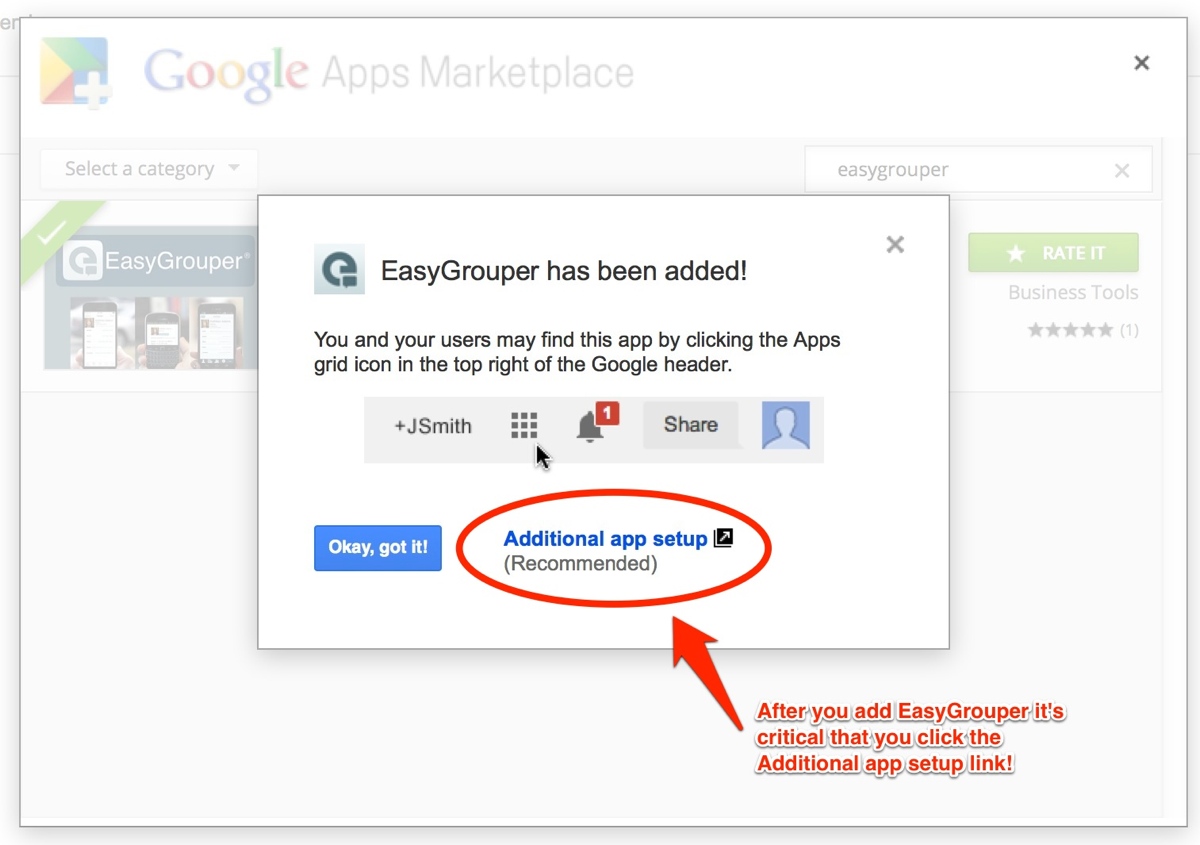 If you fail to click the Addtional app setup link you can fix that by going to your Google Apps Marketplace console and clicking on the EasyGrouper application. You will see a Setting tab that will give you the option of running additional settings:

After clicking that link your EasyGrouper account should be set up properly and ready to synchronize on a regular basis. If you decide EasyGrouper isn't right for you then from that same area you can delete EasyGrouper from your Google Apps environment. EasyGrouper will be notified that the app has been removed and we will close your account.
In the Account Settings page you can press the Start Syncing Images button to begin the synchronization process. EasyGrouper will pull available images out of the user's Google profile, though the resolution of the image is limited to Google at 96x96 pixels.
If a user's image is set in their Google profile but it is not being pulled into EasyGrouper, ensure the user has set their Google Plus profile to share their image with Everyone.
If you are seeing an error message in the admin section that reads "Requested client not authorized" please check your Google Apps settings for EasyGrouper. This particular error is often caused because someone has revoked data access. This setting can be seen in the Data Access section of the EasyGrouper application on Google Apps.
By clicking Grant Data Access you will clear that error and synching should proceed on the next pass.
There are two ways to upgrade the persmissions for EasyGrouper to access your Google Apps account. These are dependent on how you installed Google Apps integration in the first place. If you installed via the Google Apps Marketplace, please follow these directions: (If installed manually skip down via this link) As an administrator of the google apps domain with privileges to be able to manage groups, users, and organizational units go to your admin console and select marketplace apps.

Click on the EasyGrouper application:

On the next screen click where it says data access on the left hand side and in the window that opens to the right click Grant data access. This will give us additional approvals necessary to be able to perform syncing of groups or filtering of users by organizational unit or group.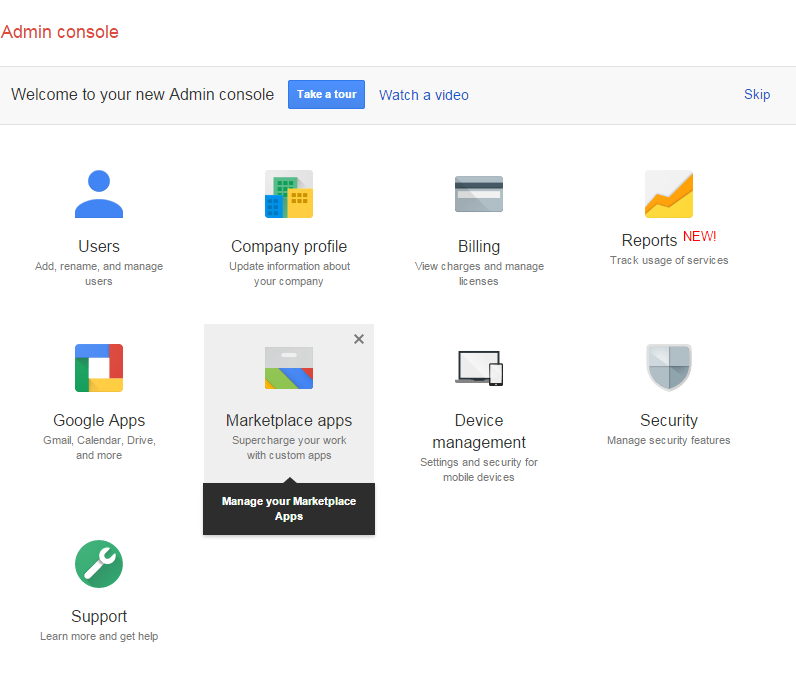 Manually Installed Google Apps Integration Steps
If you orginially synced EasyGrouper to your Google Apps account via the button in the EasyGrouper Account Settings page, you can Re-Authorize these permissions by clicking the Re-Authorize with Google Apps button in the Account Settings page (shown below):